Wednesday 24th July
12pm – 6pm
Kendal Town Hall, 9a Lowther Street, Kendal, LA9 4DL
Cumbria County Council are holding a public drop-in session regarding their project to replace Gooseholme Bridge in Kendal. The bridge closed in January 2016 after it was damaged during Storm Desmond in December 2015, and a project is now underway to replace the bridge, funded by Cumbria County Council, the Environment Agency and South Lakeland District Council.
The aim of the drop-in session is to receive comments and feedback from the public on the proposed design of the structure in order to refine the design before construction. This public engagement opportunity will be open from 8th July – 2nd August 2019.
To view further information on the project, including artistic impressions of the bridge and a 'Goosehole Information Pack' document, please visit Cumbria County Council's webpage here: https://www.cumbria.gov.uk/gooseholme/project.asp.
Information displays for the project will also be available at Kendal Library from 15th – 26th July 2019, and at the Environment Agency's information point at Westmorland Shopping Centre in Kendal.
Comments on the proposed structure can be given either at the drop-in event, by filling in a comment slip at an information display, or by emailing GooseholmeFB@cumbria.gov.uk.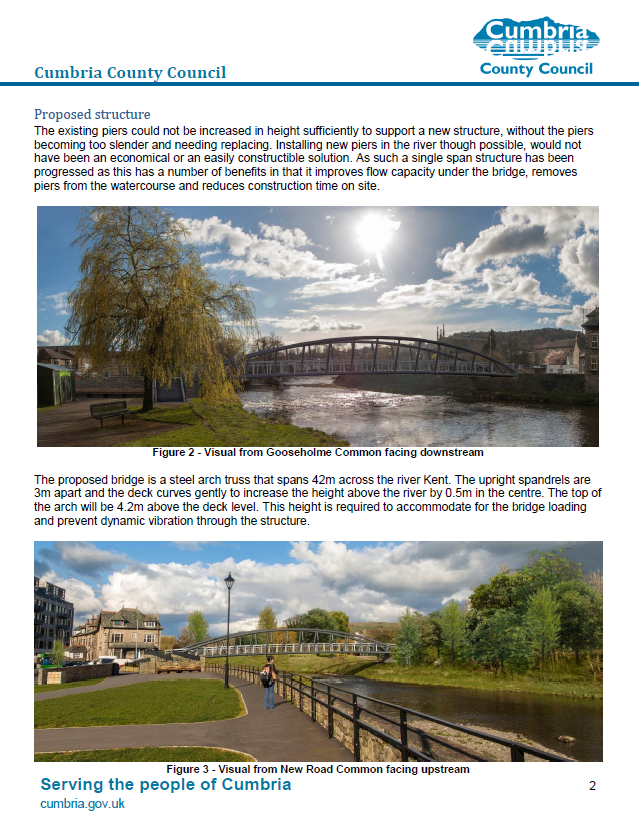 Crop from 'Goosleholme Information Pack' PDF