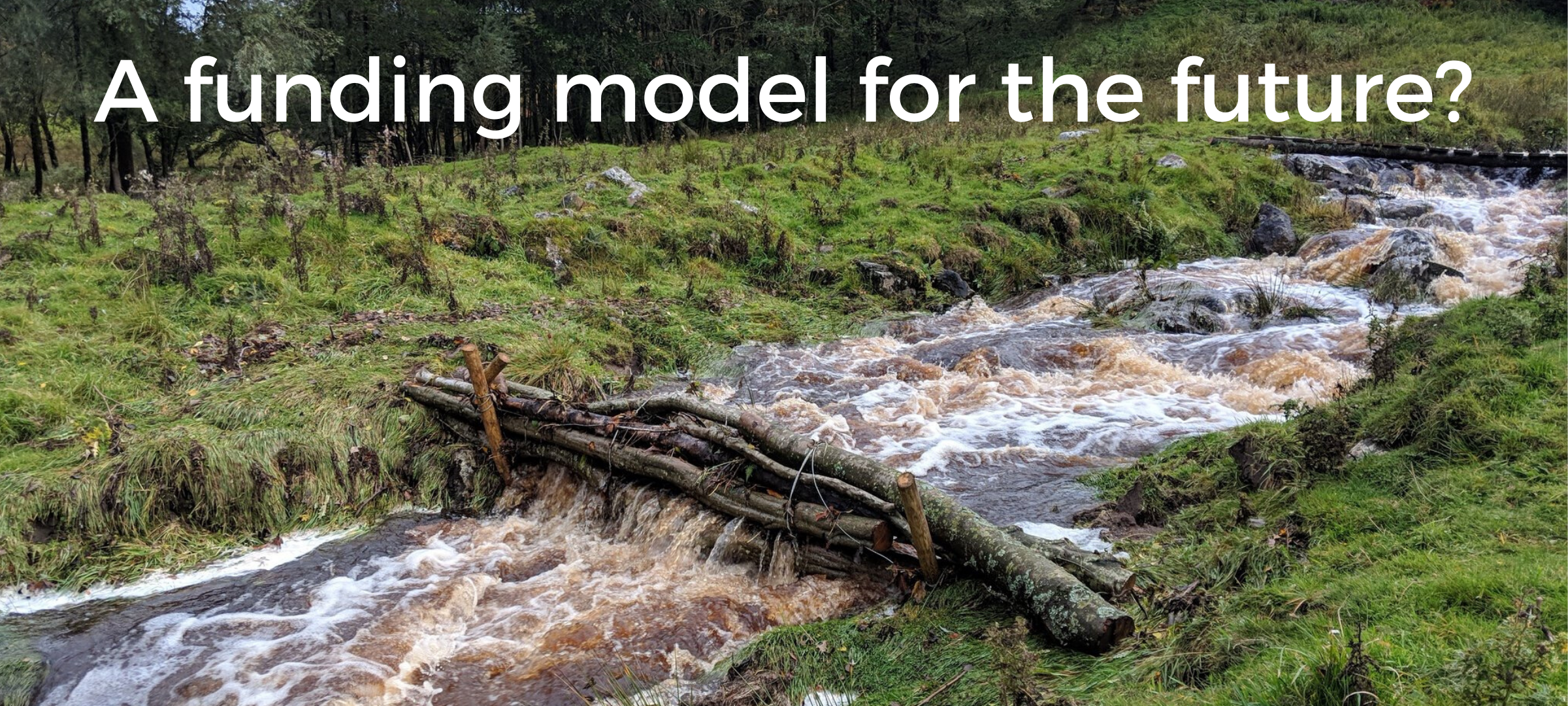 Driven by data, the project will identify the most cost-effective nature based solutions at a catchment scale, that could ensure long-term flood resilience, protecting you and your community against future climate change. This project is being delivered by The Rivers Trust, Wyre Rivers Trust, Environment Agency, United Utilities, Triodos Bank, Co-op Insurance and Flood Re with funding from Esmée Fairbairn Foundation.
Growing

support

for Natural Solutions
Hard-engineered flood-risk management solutions alone will not address present and future flood risk. Flood defences should be supplemented with natural solutions that reduce the impact of flooding to people, businesses and infrastructure. Natural Flood Management (NFM) involves slowing the flow of water over the land and increasing storage in the catchment to reduce the height of flood peaks. This also has benefits for the environment by reducing pollution and restoring natural habitats.
Initial modelling of the River Wyre catchment has shown that the development of approximately 70 hectares of NFM features could reduce the frequency of flooding for up to 120 properties in Churchtown. These developments also hold the potential to deliver large financial savings to multiple beneficiaries including the water company, Environment Agency, local authorities, insurance industry, locally based businesses and of course, homeowners. Theoretically, these cost savings could generate a long-term revenue stream for repayment of an upfront investment in reduced flood risk.
This project will test inital flood modelling; work with the relevant landowners to get permission for the works; identify the mechanisms and beneficiaries to repay the capital investment; and build a business case for sustainable long-term investment.
At a time when we are facing a climate emergency, this new mechanism for funding natural solutions, could help protect and support the local community and its catchment, at a scale and pace that can make a difference.
Mark Lloyd – CEO The Rivers Trust:
"At a time when we are facing a climate emergency, we must find new ways to invest in recovery of the natural processes that protect and support us, at a scale and pace that can make a difference. Hard engineering alone will not address our future flood risk challenges and must be supplemented by natural solutions"
Project partners