A flood action group is a voluntary group of local residents who meet on a regular basis to work on behalf of the wider community to help to try and reduce the impact of future flood events. The focus of the group can be based around emergency planning and can also tackle local issues, whilst providing a unified voice for the community to communicate ideas and queries to others.
An established group can encourage the wider community to get involved, including not just residents but also local businesses, landowners and professional partners, as they can be important in improving flood resilience within the community. Our resource on how to reduce the impacts of flooding contains information on community flood resilience and can be downloaded here.
Depending on the scope of the work, it could be recommended that a flood action group has public liability insurance. This may be available through your local neighbourhood watch group.
It is within the remit of each individual group to decide on its own roles, responsibilities, aims and objectives.
The roles of a flood action group could include:
Spread awareness of flood risk within the community.
Monitor local conditions e.g. community volunteers keeping an eye out for blocked drains.
Develop and review a community flood plan.
Look out for vulnerable members of the community.
Prepare for and take action during a flood event.
Identify key flooding issues within the community and who is responsible.
Build relationships and lines of communication with key agencies.
Influence the development of future flood scheme opportunities to better manage flood risk.
For more information, download our resource on Flood Action Groups here.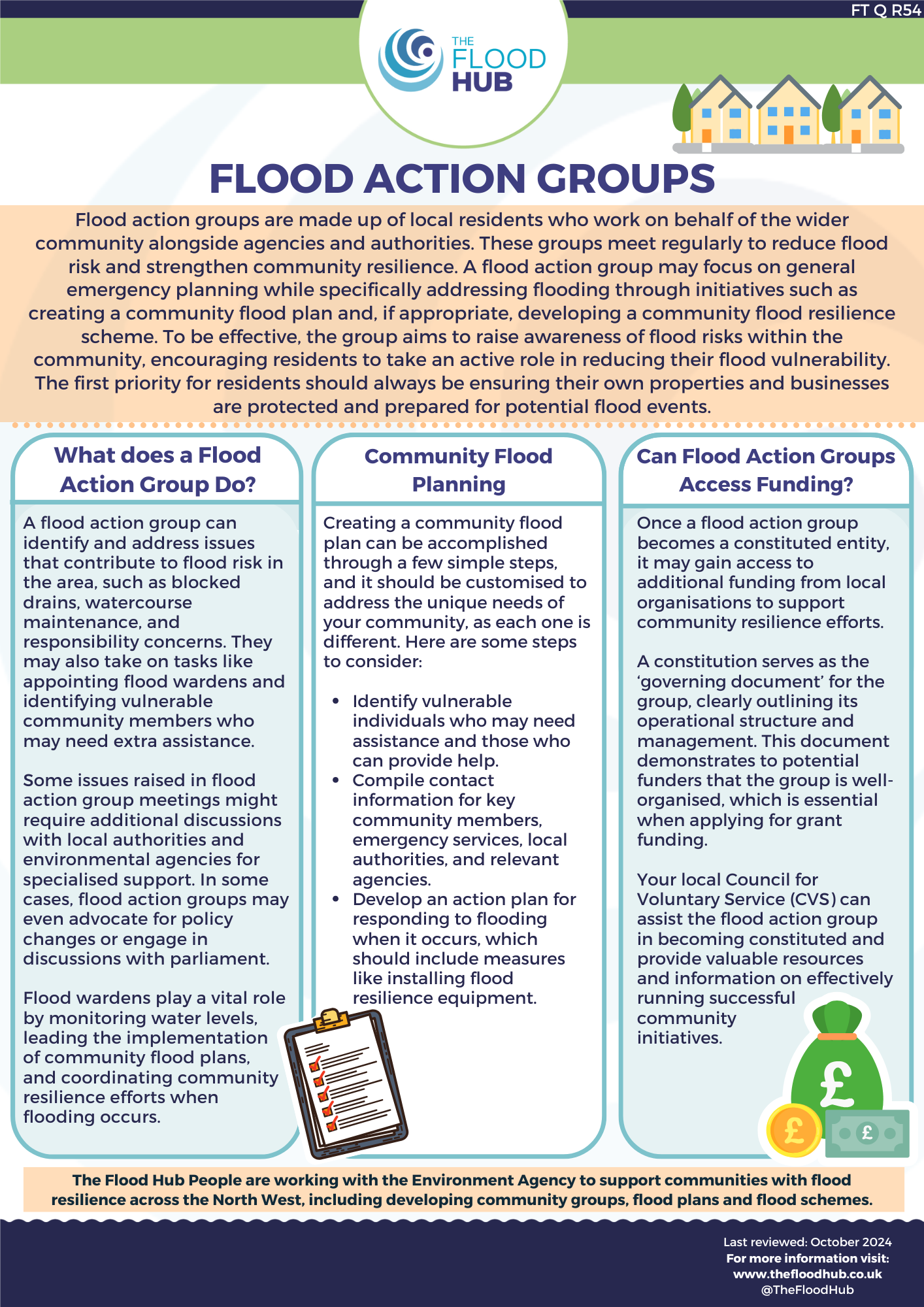 If your community is situated in a flood warning area, you can encourage residents and local businesses to sign up to receive flood alerts and warnings; a free service from the Environment Agency.
---
A flood action group can invite all members of the community to highlight major concerns and areas where action can be taken in regards to managing flood risk. The group can then act as the voice of the community to communicate ideas and queries to, and build relationships with, key agencies involved with flooding.
If you don't have a community flood action group and you are interested in setting one up, contact your local Environment Agency Flood Resilience Team.
High Water Common Ground discusses what a community can do, and how individuals and landowners can work together in response to flooding. Find out more and watch their videos here.