This area of land located to the north within the suburban fringe of Kendal, will be landscaped to become a new community nature area. The aim is to create a sustainable and thriving nature highway through art that conserves and improves the area for habitat and wildlife and creates an educational, discovery and play environment for local people and visitors.
Beezon Fields Landscape Plan
The plan shows the diverse range of planting, landscaped in a way that provides a multitude of benefits as well as a number of educational and art features along a new sensory pathway, creating an inspiring place for discovery and play.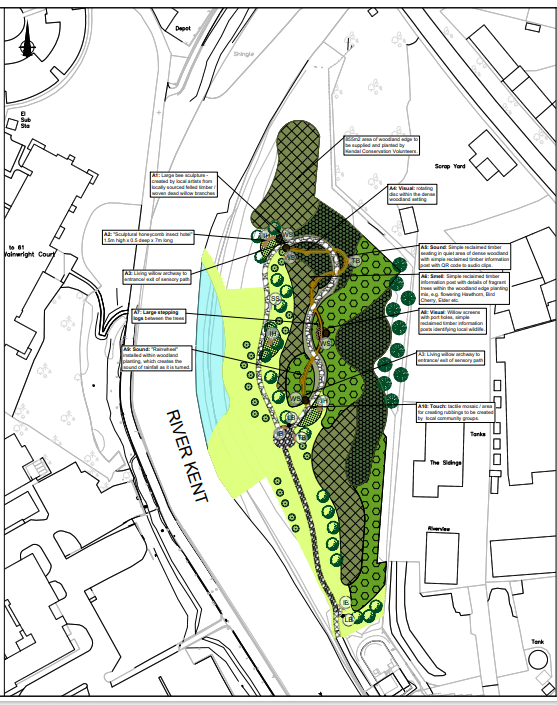 To view the full plan, including landscape and planting, click here.
Sensory Path
The Environment Agency believe that everyone should have the opportunity to reconnect with nature and its amazing qualities. The sensory path will be a key feature offering a wide array of textures and sensations perfect for the discovery of wildlife. The pathway will guide you through the landscape along with an interactive nature trail. Carefully positioned art and planting will provide opportunities to stop and be in nature, with activities along the way to encourage the awakening of the senses through listening, looking, smelling, and touch.
Through the educational and sensory features like the interactive "rainwheel", people of all ages will foster meaningful experiences with nature, developing a deeper understanding and appreciation of the natural world.  The Environment Agency hope that skills gained here will be taken away by visitors and used in the greater outdoors and further along the beautiful river corridor which the Kent provides.
Sensory Path – Tactile Mosaic Tiles
Another feature of the sensory path are the tactile mosaic tiles . These pieces of art have been made with local students from the town's Sandgate and Castle Park Schools during sessions run by local ceramic artist Rosie Meredith. Promoting the sense of touch and vision, these colourful tiles will engage children with their local natural surroundings. The plant species used in designing these tiles have been found local to Kendal and some will be found in the Beezon Fields planting scheme.
Willow Sculptures
To create a diverse habitat the scheme will also include living willow sculptures, in the form of arches and screens, designed and planted by local children through workshops run by local willow artists (Willowpool Designs). Willow structures absorb carbon dioxide, enrich the soil and provide new habitats whilst framing, dividing and creating spaces of interest for children to hide, seek and uncover their inner imaginations.
---