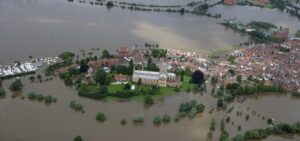 Flooding can force us out of our homes, schools, colleges or workplaces. When that happens, our lives get reshaped, priorities shift and familiar places get altered. These changes affect our work, schooling, recreation, friendships and support networks. They can cause anxiety and undermine feelings of safety. But being flooded can also increase people's capacities for action, their sense of solidarity and their understanding of the need to adapt to future flooding.
Our team of social scientists at Lancaster University has worked with flood-affected adults and children to find out how the experience has impacted them. We've interviewed people and held discussion groups. We've also used diary-based work, photography, walk and talk through flood-affected landscapes, model-making and drama.

This short film describes our team's work with people affected by the devastating floods in Hull in 2007:
Dealing with loss and recovery
There are different dimensions to the loss caused by flooding: from losing valuable personal objects that carry memory and meaning to the loss and potential isolation caused when people are displaced and become separated from their friends and home communities.

Flood recovery is a lengthy and complex process. It takes hard physical, mental and emotional labour. It can cause stress from living with uncertainty. Being flooded can also change people's views of the future, either through fear about it happening again or being inspired to act to mitigate, prepare or adapt.

Living with flood risk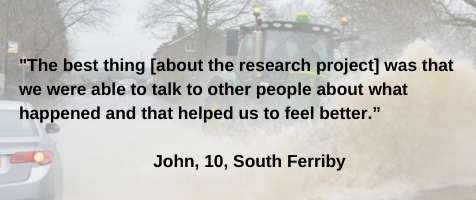 It is important for people of all ages who have been flooded to have opportunities to come together with others to share their experience and learning, as this can help shape how we all prepare for flooding in the future.
Our team worked with flood-affected children in the North East and South East of England to create Flood Manifestos in which they drew directly on their experiences to propose ideas for change in flood risk management.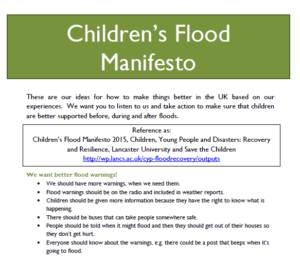 "In schools there should be lessons on emergencies and floods, including how to prepare, understanding priorities when it floods, where to go, survival and first aid. This has to be done from primary school onwards. It should be done without scaring children and include how they can help the community."
(Young People's Flood Manifesto)
The children presented these Manifestos at a series of public events and asked their audiences to pledge action in response. This work has led to changes in policy and practice in flood risk management in England, as you will see later in this exhibition.