Children can be acutely affected during and after floods, losing their homes, friendship networks and familiar surroundings. They also see adults under great strain and witness the exceptional and long-term tensions that flooding brings about.
However, Lancaster's research has shown that children can play a major role not only in response and recovery work but in awareness raising and flood preparedness. Recognising children's perspectives and capacities is a vital part of the process of building community resilience.
Children's experiences of flooding
The Lancaster team, in collaboration with Save the Children, worked with two groups of children from the North East and South East of England affected by the devastating 2013/14 winter floods. We used creative, participatory methods to help the children reflect on and talk about their experiences and communicate their ideas to policy.

Six key themes emerged from our analysis: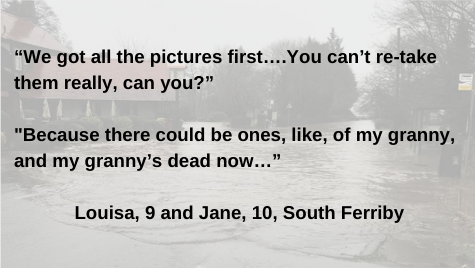 1. Children's reactions to warnings and the need for greater flood awareness: children have identified the importance of flood education in schools, including understanding flood risk, learning about flood warnings and how to make a flood plan.
2. Children's perspectives on loss: children understand the effect of losing precious personal possessions, as well as the loss of friendships and social networks.
3. Children's experiences of recovery: the lengthy recovery process can have unseen impacts on children's lives as they endure living with uncertainty.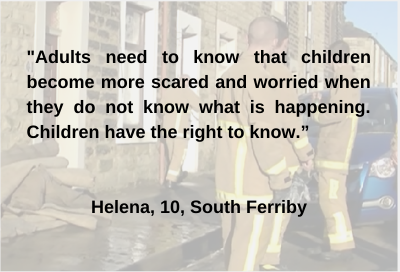 4. Children's awareness of isolation: feeling isolated, with no one to share the long-term, ongoing effects of the flood is especially difficult for children and they feel a positive benefit in getting together with others who are flood-affected.
5. Children as active contributors in flood response and recovery: children should be given more information before, during and after flooding because they have the right to know how to prepare, what to expect and how they can contribute. Children can play an active part in helping their communities during and after a flood.
6. Children's understanding of flood adaptation and new normalities: flood-affected children have the experience to help them understand the measures that should be taken to prepare, protect and adapt to flooding. Children understand the need to promote a 'new normal.'
To explore these themes in more detail, check out these flood stories from four young people aged 11-15 who were flooded out of their homes.

Play our digital Flood Snakes & Ladders game to experience a 'flood journey' from the perspective of a child. Listen to a clip from Flood Snakes & Ladders here:
Children contributing to change in flood policy and practice
The children we worked with drew on their experiences to outline their ideas for change at family, community and national policy level. They presented these 'Flood Manifestos' to the All Party Parliamentary Group on Flooding. Their insights and experiences have led to the development of new flood awareness tools and resources and changes in the insurance, flood risk and emergency management sectors in England, as policymakers and practitioners have started taking account of the needs of children and the contribution they can make to resilience building. 
Watch our film in which children speak directly about being flooded and what things need to change to help us all become better prepared:
Find out more about our children and flooding project and download the project report.