A new 'Natural Flood Management handbook: a practical guide for farmers' has been produced, funded by West Cumbria Rivers Trust, Newground, Heritage Lottery Fund and the Environment Agency, as part of wider work from West Cumbria Rivers Trust and partner organisations to increase the use of natural flood management measures.
The handbook highlights different natural flood management techniques that landowners can use to help reduce flood risk and the amount of water reaching towns and villages. The guide offers practical advice to farmers and landowners across the North West, and includes various sources of advice and contacts of organisations involved in managing flood risk.
The booklet can be picked up from the West Cumbria Rivers Trust offices at 32 Lake Road, Keswick.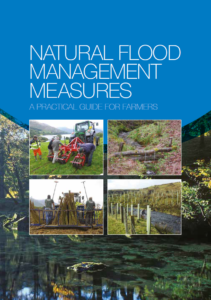 Click here to download the handbook from our Knowledge Hub.
Visit the West Cumbria Rivers Trust website here for more info.