The Flood Hub Business Flood Resilience Awareness Week
Posted: 12/05/20
From Monday 18th May – Friday 22nd May, The Flood Hub is running a Business Flood Resilience Awareness Week from its social media accounts:
The aim of this awareness week is to provide business owners with information about how they can plan and prepare in advance of a flood to increase their flood resilience and minimise the effect a future flood could have on their business.
Please feel free to support the campaign on social media by retweeting and liking our posts and/or sharing your own tweets and advice related to business flood resilience and tagging us @TheFloodHub.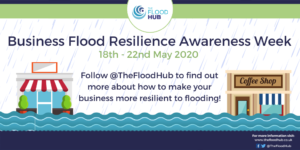 Please download our campaign related resources and share these too!