Since 2012 the Environment Agency (EA) have worked with key partners, listened to and worked with the local community to generate a flood risk management scheme to reduce the risk of flooding in both Littleborough and Rochdale. Technical feasibility, economic viability, environmental sustainability and social acceptability were all considered when deciding on a preferred option.
The Rochdale and Littleborough FRMS will be delivered in two phases. Phase 1 (Littleborough) and Phase 2 (Rochdale – downstream of Smithy Bridge). The EA are phasing the construction works in this way because by beginning upstream in areas of Littleborough, the benefits will include a reduced flood risk for residents and businesses not only in Littleborough but also in Smallbridge and Rochdale.
---
The Littleborough planning application will be further divided into two phases: phase 1A and phase 1B. This will ensure pace is maintained. The planning application for phase 1A was submitted on 24th January 2020. Phase 1B is forecast to be submitted to the Rochdale Borough Council planning department towards the end of 2021.
Gale Enabling Works
The Environment Agency are pleased to announce that have started construction of the first phase of the Rochdale and Littleborough FRMS. This first phase, known as the enabling works, will consist of constructing an access ramp from Todmorden Road (A6033) into the Gale West site (between the junction of Reddyshore Brow and Elim Street), constructing an access into the Gale East site (East of the railway line) and diverting Greenvale Brook within the Gale East site.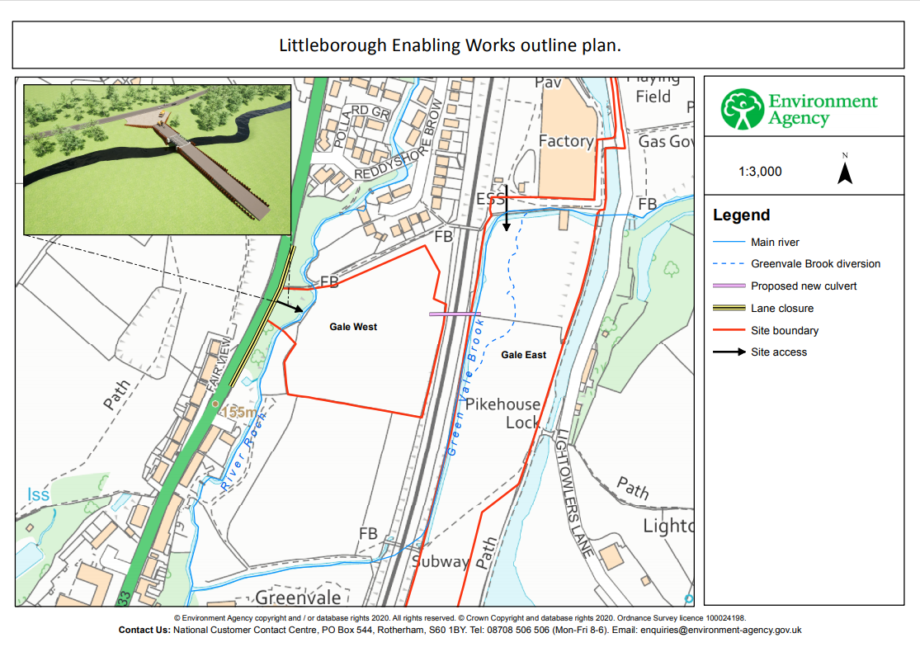 Phase 1A
This phase consists of 8 work packages related to various locations within Littleborough. With the exception of the Enabling Works package, these works are forecast to begin in Early 2022. The works to be undertaken are:
Riverstone Bridge – Demolition of existing road bridge and footbridge and replacement with a combined road and footbridge, river channel widening and associated landscaping works.
Charles Street – Removal of existing bridge over the River Roch due to causing a constriction to flood flows in the river. Erection of infill wall to close the gap with wall mounted railing and associated landscape works.
Peel Street – Modification of existing flood wall to raise the height and associated landscape works.
Railway Street – Temporary works to allow 4 No. HGV vehicle movements, including temporary removal of existing bollards and installation of temporary barriers.
GNG Foam Converters – Construction of new flood defence wall in place of existing brick boundary wall.
Town House Brook – Raising of existing flood defence wall, installation of coarse trash posts, raising and extension of pedestrian ramp and associated landscape works.
Carriage Drive – Bank repairs to re-instate channel width and removal of debris in the existing culverts.
Gale Enabling works – please see section above.
Phase 1B (Littleborough)
This phase comprises of the proposed construction of a flood storage reservoir at the Gale site just off Todmorden Road. There are also three further linear defence works to be undertaken at sites within Littleborough to be included in this phase:
Grove Lodge
Greenvale Business Park
Ealees Brook
Phase 2 (Rochdale)
Preliminary detailed design for phase 2 (Rochdale) is now underway and the main detailed design study is expected to start in autumn this year – The Environment Agency look forward to engaging with residents, partners and businesses in the area at the same time once they have developed our proposals further.
The Environment Agency are committed to delivering the scheme as quickly as they can and will work closely with Rochdale Borough Council and other partners to ensure they are in a position to start construction works as quickly as possible.