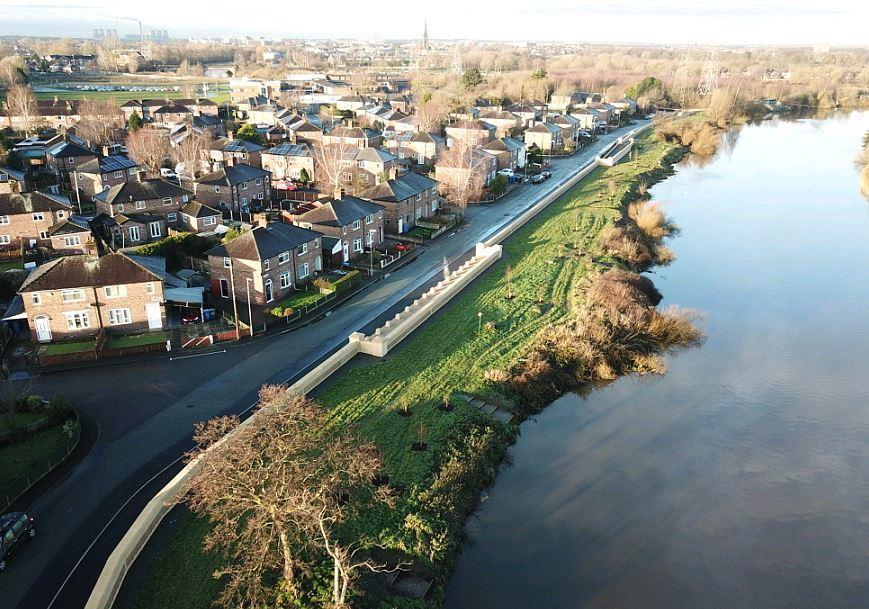 The 2009 National Flood Risk Assessment showed that Warrington had the tenth highest number of properties at significant risk of flooding in the country. Warrington is at fluvial and tidal flood risk from the river Mersey and its tributaries.
The Environment Agency's £34 million flood risk management scheme, which was delivered between 2012 and 2017, has provided improved flood protection to approximately 2,400 local homes and businesses.
In addition, the scheme protects vital infrastructure, such as the Scottish Power High Voltage Grid Substation on Howley Lane, which serves approximately 2/5 of Warrington.
The completed scheme has helped to bring investment to the area. As a direct consequence of the flood alleviation scheme, the Howley Quay area has been re-developed with affordable housing; and the scheme has been a catalyst for further investment in recreational facilities and amenity improvements at Victoria Park.
The Environment Agency worked in partnership with Warrington Borough Council (WBC) and Scottish Power (SP) and other local stakeholders to deliver this scheme. Although the majority of the funding for the scheme was from Government Grant-in-Aid, substantial funding and "in-kind" work contributions were received from both WBC and SP and these were essential for the success of the scheme.