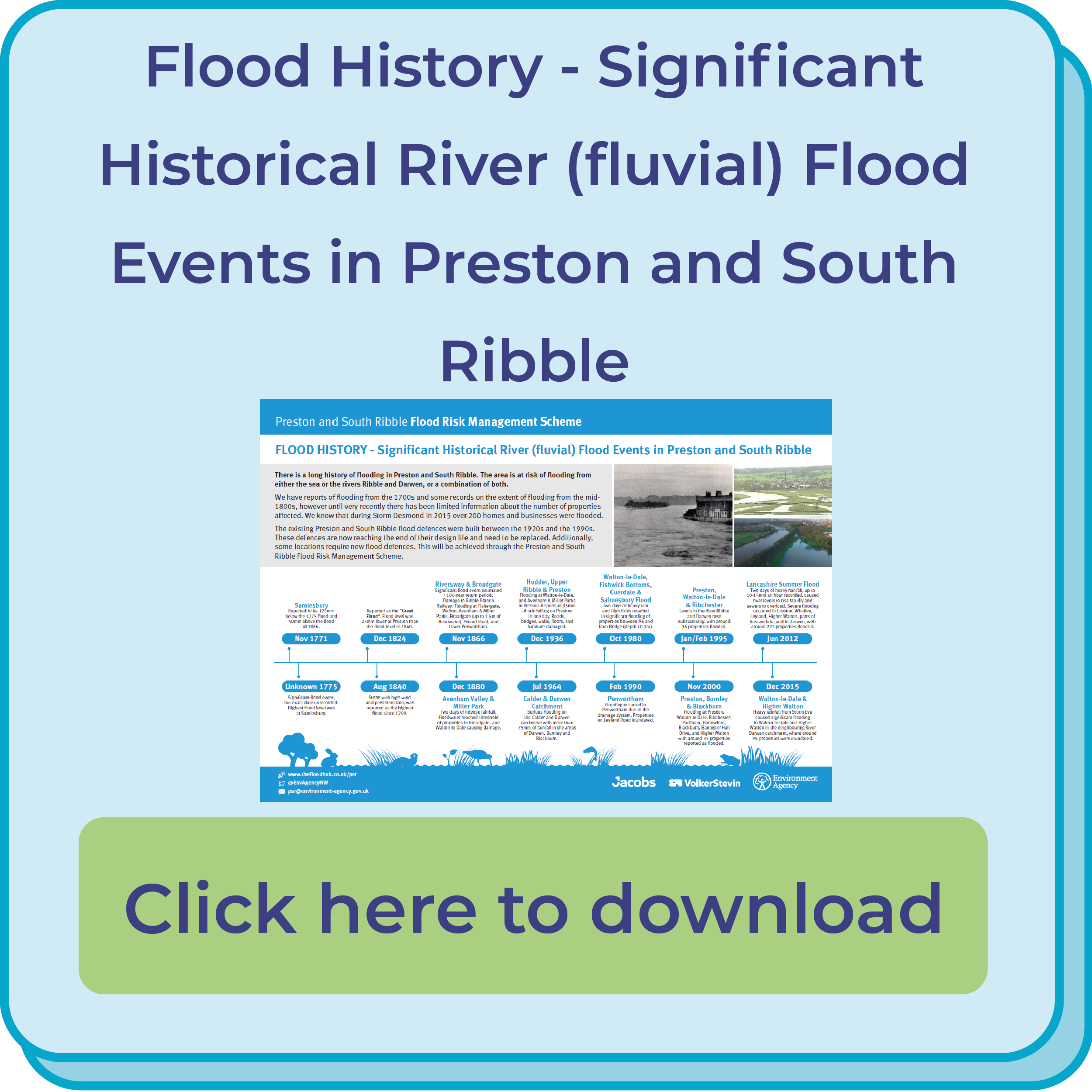 Why create the flood scheme?
There is a long history of flooding in Preston and South Ribble, which goes all the way back to the 1700s. There have been eight recorded floods since 1936.
The existing River Ribble defences were built in stages between the 1920s and the 1990s. However, these defences are now reaching the end of their design life and need to be repaired, replaced, or extended.
The Environment Agency and its partners are working together to develop the Preston and South Ribble Flood Risk Management Scheme (PSR FRMS). This scheme will provide flood risk mitigation for communities from Broadgate in Preston up towards Higher Walton – helping to protect around 5,000 residential properties and businesses.
The flood scheme takes into consideration climate change and environmental enhancements. There is also a focus on growth and regeneration in the areas where the scheme is being constructed.
---
Funding
The scheme is currently expected to cost around £54.7m; funding has been secured from the government and other funding partners.
---
The 5 areas of the scheme
Construction will be split into two phases and cover five areas.
Phase 1:
Area 1 – Broadgate and Riverside
Area 2 – Lower Penwortham
Areas 1 and 2 will comprise of defences made up of flood walls (topped with glass panels in some locations), and embankments. There will be property level protection in some locations too.
Phase 2:
Area 3 – Frenchwood, Fishwick Bottom and Walton-le-Dale along the River Ribble
Area 4 – Walton-le-Dale along the River Darwen
Area 5 – Higher Walton
Areas 3, 4, and 5 will comprise of flood walls, glass panels in some locations, embankments, and some property level flood protection (i.e. defences added to properties such as flood barriers).
---