Overview:-
The Environment Agency, Lancashire County Council and partners are working together to develop the Preston and South Ribble flood risk management scheme. This scheme will provide flood risk mitigation for communities from Preston Riversway up towards the M6 and Higher Walton.
The proposed scheme will better protect around 3600 residential properties as well as over 300 businesses. There are currently some flood defences already in place, but these were mostly built between the 1920's to the 1980's and are coming to the end of their life.
Following feedback from the community we have established a preferred scheme option which we plan to share over the coming months. Any proposed defences will likely be made up of flood walls, localised use of glass panels and embankments.
Any future defences will consider climate change and include environmental enhancements and mitigation. There will also be a focus on growth, regeneration and natural flood risk management where possible.
The proposed scheme is likely to involve five locations of works and cost in the region of £45m.
Approximately £25m of contributions to total scheme costs have been secured to date. The remainder will be covered by government funding and further contributions from businesses and partner organisations.
Frequently Asked Questions:-
Click here to view the Preston & South Ribble Flood Risk Management Scheme frequently asked questions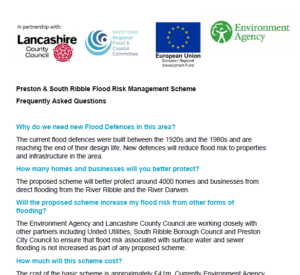 Ground Investigation Works:-
Ground investigations are required to determine the properties of the soil and rock in the ground near to the proposed defences.
The surveys are planned to start around the 25 March 2019 and are likely to take several months to complete.
Although we seek to minimise disruption it is possible that footpaths may need to be diverted temporarily. We will therefore aim to keep this page updated regularly with the latest information.
Whilst we are carrying out Ground Investigation works you may see markings similar to these on the roads or pavements in the area. These markings are to identify where existing services are potentially located. These markings are temporary and will wash / wear away over time.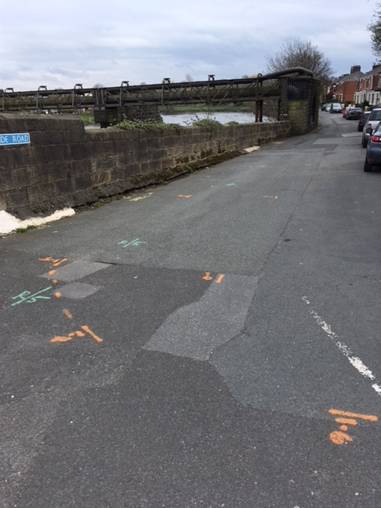 The Ground Investigation Surveys will involve the following types of works. Please click on each of the links below if you would like further information on each of these activities:
Ground-penetrating radar (details to follow)
The works will be supervised at all times. A typical shift will be between 08:00 and 18:00, no work will be undertaken during hours of darkness. Although we seek to minimise disruption it is possible that footpaths may need to be diverted temporarily.
This map shows details of where the survey works will be taking place: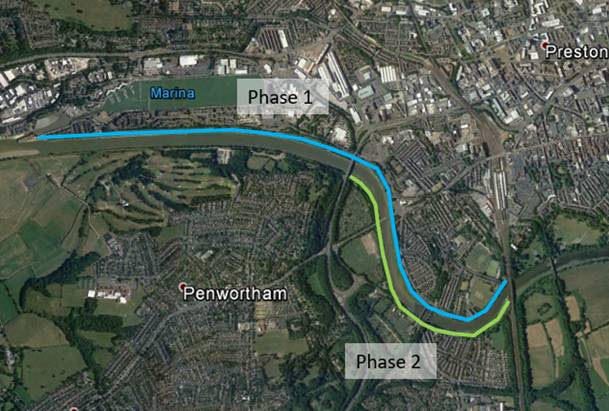 Ground Investigation Update – 29th May 2019
Window Sampling works are now complete.
Completion of remaining investigation works is expected by end of June 2019.
Community Engagement Update -29th May 2019
We will continue to engage communities and businesses as the scheme progresses but here's a brief snapshot.
Baseline flood mapping and modelling – completed May 2019
Review of public drop-ins feedback – completed May 2019
Creating and reviewing scheme options based feedback received – ongoing
Next Steps…
In Autumn 2019 we will be carrying out our next round of engagement and Community Drop-in Events.
After these events take place we will update this website with a selection of display materials used.
Engagement Events:
Past Events:
16th October 2019 – Lower Penwortham – Preston Flood Scheme drop-in
9th October 2019 – Riversway and Broadgate – Preston Flood Scheme drop-in
7th June 2019 – Walton Le Dale and Capitol Centre community drop-in
25th April 2019 – Frenchwood and Fishwick community drop-in
3rd April 2019 – Community Drop-in (Higher Walton and Samlesbury)
27th March 2019 – Community Drop-in Event / Mock-up of Defences (Penwortham Methodist Church)
30th January 2019 – Penwortham Community Drop-in Event (Penwortham Methodist Church)
3rd September 2018 – Docklands Business Meeting
8th August 2018 – BRAG meeting presentation (St Stephens Church)
8th May 2018 – Broadgate Community Drop-in Event (Gujarat Centre)
Documents for download:-
Click here to download the Preston and South Ribble Newsletter March 2019
History of flooding (pdf to follow)